THE STORY
Based in the English countryside, Kiss the Moon create beauty & wellness products that tap in to the power of nature's most soothing ingredients to help you to sleep beautifully and wake up looking gorgeous.
Founded by Jo Foster, and born from the need to get her own sleep back on track and counter the effects of a life full of deadlines and jet lag inducing travel. "Good sleep is fundamental to a successful beauty regime because it is while we sleep that the most active cell renewal happens. That's why poor sleep so often results in poor skin. Our products not only help you get to sleep but also give your skin the nourishment it needs overnight as it repairs and regenerates" Jo Foster.
Everything in the range is 100% natural, made without cruelty to animals and proudly made in the UK.
THE INGREDIENTS
Kiss the Moon taps into the wealth of soothing ingredients that nature provides to create four aromatherapy blends. So you can find the perfect match for you skin and your sleep needs.
The Love products are made with Rose, Frankincense, Palmarosa & Ylang Ylang. A rejuvenating blend that will lull you to sleep and support your body's night-time cell renewal. Ideal for older skin that wants to stay looking young. Glow is infused with Orange, Geranium, Myrrh & Litsea. With warm citrus & delicious floral notes to help you drift of to sleep feeling positive and provide the vitamins your skin needs to stay radiant. Perfect for restoring dry skin. The Calm products contain Jasmine, Ylang Ylang, Chamomile & Sandalwood. A deeply soothing treatment designed to help ease away the pressures of the day and rebalance stressed out skin. The Dream ingredients include Lavender, Bergamot, Cedarwood & Chamomile. The gentlest way to drift smoothly off to sleep and soothe your skin overnight. Perfect for sensitive skin.
THE RANGES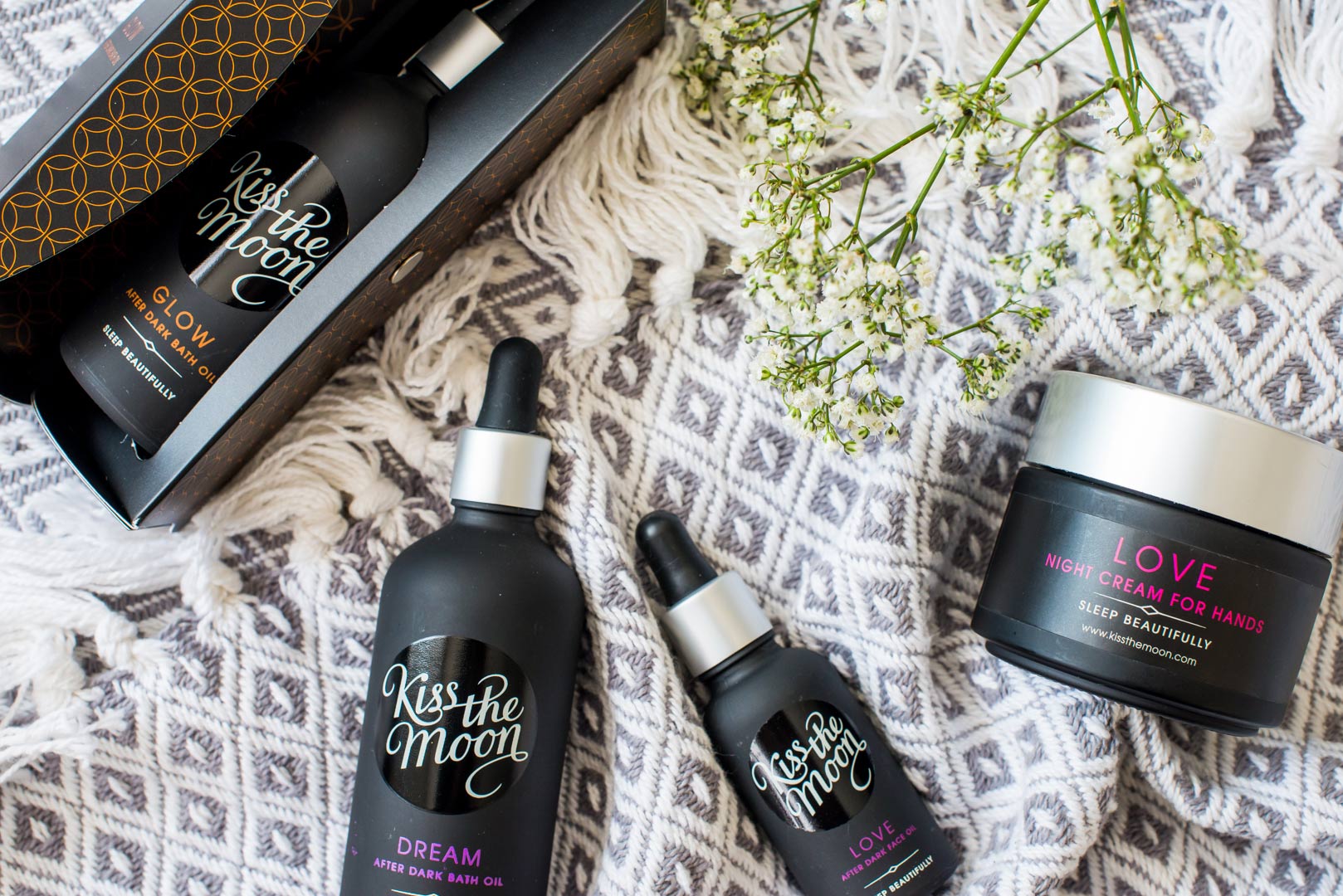 Kiss the Moon's night-time skincare range contains ingredients that help you rest well at night and get your beauty sleep. Ease away the day and prepare you for a beautiful night's sleep with our deeply relaxing, skin softening bath and body range.
THE PRODUCTS
After dark face oil in Love, Glow and Calm – A trio of night-time face oils mean that whatever your skin type they have the perfect beauty sleep potion to help you wake up with dreamy looking skin. £38 for 30ml, £12 for 5ml
After dark bath oil in Love, Glow and Dream – Made with beautifully scented essential oils and skin-nourishing Coconut, Jojoba and White Tea Seed oils to help you unwind. £38 for 100ml
–
Who are we? We're Urban Massage – on a mission to make wellness rituals convenient and accessible without compromising on quality. So from just £49 an hour, you can enjoy a range of massages from an expert therapist at a time to suit you. Download the app or go to urbanmassage.com to book 60 minutes of restorative me time.
Book wellness at home
Massage, fitness, beauty and more, in person or online in the UK and France.
Discover services