Updated 11:00, 24/01/2022
Help keep Urban safe post-restrictions
As the government announces the end to all Omicron Covid restrictions in England, we're still encouraging you to take simple steps to help keep Urban safe and open for all.
When you book:
Chat with your pro about safety measures via in-app chat
You can message your pro via the Urban app any time after booking to discuss safety measures and share things like your testing or vaccination status.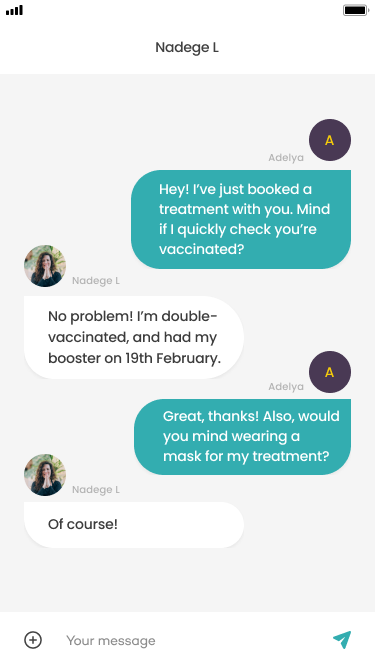 Let them know if you'd prefer them to wear a mask
As this is no longer a legal requirement for most massage and beauty treatments, feel free to say if you'd be more comfortable if they wore a mask. For certain treatments like osteopathy, physiotherapy and beauty treatments involving the face, your pro will wear a mask as part of their standard practice (unless exempt).
Air the space beforehand 
Opening windows before your therapist arrives is a huge help. It brings fresh air in and allows the air you've been breathing to escape before you enjoy your treatment. If you can, we recommend turning up the heating as soon as the windows are closed to keep the room at a comfortable temperature.
We recommend taking a lateral flow test before your booking
They're free to order on the NHS, and a simple way to check if you're carrying the virus without knowing it (asymptomatic people can still spread Covid).
Shower and/or wash your hands
Showering before a massage is a great way to warm your muscles up, and now it also acts as an extra safety step. Just make sure you wash your hands right before your treatment, too.
Cancel if you or anyone in your home is unwell or needs to self-isolate
Just use in-app chat to let our customer support team know. We'll apply our Covid-19 cancellation policy, which means we won't charge you for cancelling (up until two hours before your booking).

Our safety recommendations for Urban pros 
We're encouraging Urban pros to continue to keep you safe by:
Wearing a face covering or mask
Although it's no longer a legal requirement, we still encourage Urban pros to wear a face covering or mask to all bookings. If they're exempt, they'll let you know via the Urban app before your booking so you can decide if you're happy to go ahead.
For certain treatments like osteopathy and physiotherapy, pros will wear a mask as a part of their standard practice.
Keeping up the sparkling hygiene
To work on Urban, all pros have to show they meet a high standard of hygiene and that they have everything they need to clean equipment thoroughly between appointments. 
Taking regular tests
We encourage pros to take lateral flow tests regularly and let us know about any positive results immediately.
Reassuring you of their safety measures 
We recommend Urban pros message you via the app before bookings to share their safety measures with you.
Not working if they're unwell or need to self-isolate
Pros won't work if they need to self-isolate for any reason. To make it easier, we've introduced a collective benefits scheme to help cover lost income.
---
Thanks, and keep it up!
We can't tell you how many stories of thoughtful clients we've heard over almost two years of the pandemic. By sticking to our safety measures, you've helped to keep Urban going. Thank you, from all of us at Urban and the wider community.

---
Who are we? We're Urban, on a mission to empower your city life through wellness. Our app is the easy way to book massage, beauty, physio and fitness – in person and online. Simply choose your trusted Urban pro, pick a time and place, and relax.