We caught up with project manager, writer and lifestyle guru Robyn Donaldson to discover how she finds calm in the chaos of city life.
---
Hi Robyn! Mind telling us a bit about yourself and what you do?
I'm Robyn Donaldson, by day a writer and arts project manager and by night a lifestyle Instagrammer, home decor enthusiast and chronic over-dresser.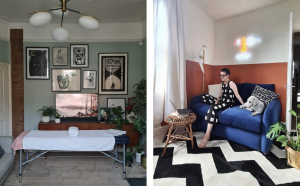 You mentioned before the interview you're in the middle of renovating your home on top of everything else you've got on. Ever get overwhelmed? 
So overwhelming – it's project management but on another level because the budgets are tighter, the time feels crucial, it's all so personal and if something goes wrong you're the one sitting in a house without heating. I take a lot of long walks, create little areas of calm in the chaos to remind myself what we're aiming for. I'm also very into deploying self care where I can from a bath to doing my nails to booking a massage, I'm all about soothing activities to help me decompress.
Before Urban, were you much of a massage-booker? How has Urban changed that?
I was but I always found it a massive bummer that I'd then undo all the good work by having to schlep across town oily, with enormous hair and by the time I put my keys in the door all my good vibes would have dissolved. With Urban, I got to ride that relaxation wave for as long as I wanted so it's been something I've stuck with from house to house.
What treatment did you last book with Urban?
I went for a relaxing massage – it really helped to loosen my muscles and left me feeling so relaxed!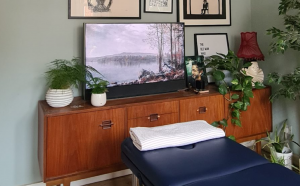 Finally, just because we're curious, what are your favourite things about your pocket of London (and where is that?)
So I live in Ladywell in South East London. The thing I love the most about the area is the sense of community. It's the most 'Northern' bit of London I've encountered because everyone seems to chat to each other. It's a really artistic place with Goldsmiths not far away and so it has culture at its heart plus there's loads of good food and shopping and tonnes of green space. The perfect little enclave just a twelve minute train ride from the centre of London.
You can find Robyn on Instagram @around.robyn