Main image credit: Rainbowrealms
What is Indian Head Massage?
Indian Head Massage is a traditional therapy dating back thousands of years, which targets the head, neck, shoulders and sometimes facial muscles. Because it can be experienced fully clothed, it is an ideal first time or short treatment. Typically sessions will run from 10 minutes – 1 hour, either on a specialist massage chair, or simply seated as normal.
In preparation for your first head massage, make sure you wear loose clothing. This is so you don't feel restricted and your therapist can access your neck and shoulders. It's also a good idea to bring hair bands or clips for afterwards. Even though this treatment is great for your hair, it might leave you looking a bit wild!
What are the potential benefits of head massage?
Despite focusing on only one part, you may feel the tingling effects of this type of massage all over your body. It can be a deeply relaxing and even spiritual experience, as it realigns the balance of energy between your "chakras".
It may also help to:
Relieve aches and pains
Reduce tension in your neck, back and shoulders
Boost your follicles to encourage hair growth
Clear your sinuses
Improve your quality of sleep
Manage headache symptoms
Increase concentration
Your therapist will typically use fragrant oils during your treatment, which may also have a relaxing and soothing effect, as well as moisturising your hair and skin. Spearmint, Lavender and Eucalyptus oils are typical, as they may help to clear your sinuses and provide relief from headaches.
Make sure to communicate to your therapist why you're having a massage, so they can focus their attention on a particular area. They may also be able to tell you where they can feel the most tension, so you can make lifestyle changes to reduce stress, or simply adjust your posture during the working day.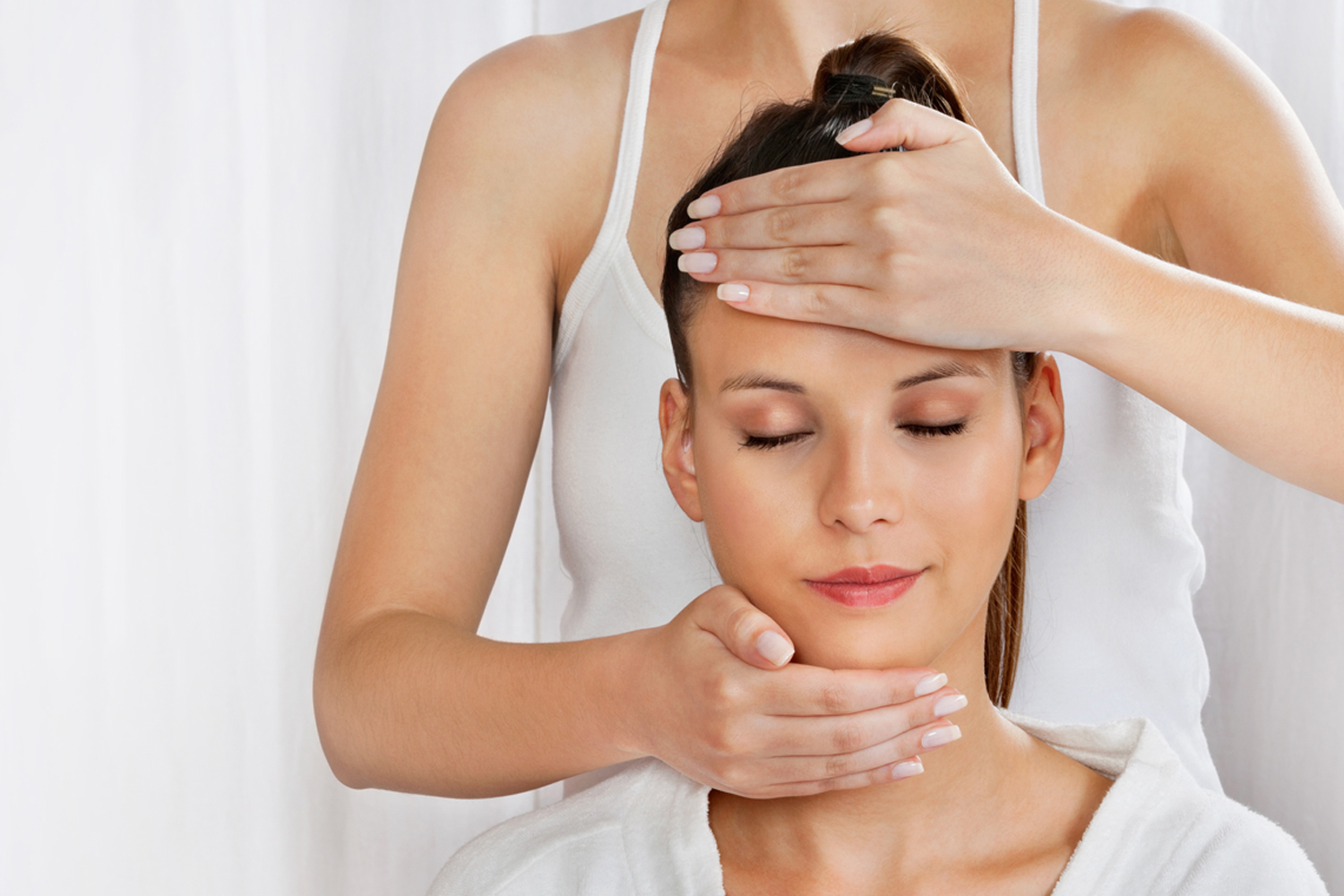 Credit: thebeautyacademy
How to do an Indian Head Massage
It's well worth treating yourself to a professional massage, but if you don't have the time, or you want to try a few techniques with a friend, these are a good place to start:
Manipulate their scalp: Clasp their forehead in one hand, and cup the back of the head with the other. Keeping the hands in place, make big circles moving the skin over the scalp.
Rub their temples: Placing the tips of your fingers at the outer corner of their eyes, and make small, medium pressure circles moving back towards the hairline. They should close their eyes, and tell you when it feels good.
Stroke their hair: Starting at the front hairline, spread your fingers and drag them carefully along their scalp and through the lengths of their hair, making sure not to tug too hard!
Pressure points to relieve headaches
Headaches can be caused for a wide variety of reasons, but you may be able to find relief by targeting trigger points around the head and base of the skull. Place your thumbs or fingers firmly onto these areas, and slowly move your head, neck and hands around until you find the point of tension:
Base of the skull: Positioned behind your head, at the base of the skull and on either side of the spine. Avoid the spine completely as expert anatomy knowledge from a professional massage therapist is needed to avoid injury.
Bridge of the nose: The indentations just under the eyebrows.
In each of these areas, take a few moments to breathe deeply until you experience some release.
–
Who are we? We're Urban Massage – on a mission to make wellness rituals convenient and accessible without compromising on quality. So from just £49 an hour, you can enjoy a range of massages from an expert therapist at a time to suit you. Download the app or go to urbanmassage.com to book 60 minutes of restorative me time.