We caught up with Urban for teams pro Jenna to find out what she enjoys most about being a nutritionist and what self care means to her.
---
Hey Jenna! Mind telling us what treatments you offer on Urban?
I work with Urban's corporate clients offering a range of nutrition and workplace wellbeing talks and events. I love this side of my work as I can spread my message around smart, simple and sustainable nutrition far and wide!
How long have you been practicing?

I've been practicing now for 6 years and I've been working with Urban for around 3 years! 
Where are you from? 
I'm from Hertfordshire just outside London (pretty boring – I'm born and bred here!)
What made you want to become a nutritionist?

I have had a passion for food since I was little and when I was 16 I started to change my diet. It was then that I noticed how much better I felt when I focussed on consuming more whole foods and my passion for health and food merged which naturally led me to studying an undergraduate and a masters in nutrition. 
What do you enjoy most about your job? 
I love watching people change their lives when they make positive dietary and lifestyle changes. Often it's small habits which can have the biggest impact and I thrive off the results of my clients.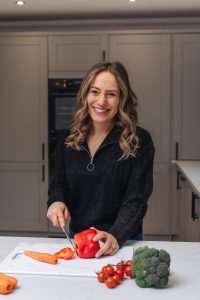 What's been your standout moment of your career to date?
Ooof! I can't pick one! I'm fortunate to have worked with some incredible brands which I could have only dreamt of working with (these include: Ebay, Google, Asos, David Lloyd and so many more). I'm also very grateful for my work with the media as I've got to work with some really inspirational people. 
What's one piece of advice you'd give to someone wanting to follow in your footsteps?
I think it's important to be confident in your abilities and stay true to your morals and your beliefs. It's important that you only ever work on projects which you whole-heartedly agree with and you feel really compliment your morals and values.
If you didn't become a nutritionist what would you have wanted to do instead?

Growing up I wanted to be an actress however, I don't think my talent was quite there! I think if I wasn't a nutritionist I may have trained as a chef as I've always had that passion for food and it was a big part of my family gatherings growing up. Nowadays I enjoy cooking for people as I believe good food can really bring people together!
Do you have any interesting hobbies?
I do spend a lot of my time working which means I don't really have time for interesting hobbies however, I do really enjoy cooking dinner at the end of the day or entertaining on the weekends. I'm often trying to challenge my skills and try out new recipes or ideas in order to improve and to keep nourishing food super interesting and exciting!
Describe a typical working day for you? (From waking up to going to bed)
One of the things I love most about my career is that no day is the same! However, I typically start the day by writing in my gratitude journal and then taking my puppy Dora out for a walk. The rest of the day really varies, some days I work from home on my brand clients, other days I spend with my 1-1 clients, creating content, working on media comments and others I'm in London at corporate clients delivering talks and events. I love the variety and thoroughly enjoy working with such a wide range of people too. 
What do you enjoy doing in your free time?
I enjoy going to the gym, walking with my husband and puppy and cooking for friends. I also love a great restaurant or cafe for a good matcha too!
What does self-care mean to you?
Self-care is something I'm really big on and it can look really different depending on the day. Sometimes it's spending a little longer in the gym and shutting off to the world, other days it can be relaxing in a bubble bath with a cup of tea, candle and engaging in some meditation. I do also really enjoy a treatment too! 
And finally, do you ever book treatments for yourself?
Of course! A facial is my favourite treatment. 
To book Jenna for your team head to our website.