We caught up with Urban pro Georgiana to find out how she makes self care a priority and what her biggest career highlight as a massage therapist has been so far.
---
Hey Georgiana! Mind telling us what treatments you offer on Urban?
I offer relaxing, sleep, de-stress, deep tissue, body sculpting and Urban classic massages.
How long have you been practicing?
For around two years.
What made you want to become a massage therapist?
Initially I just thought it would be a good job, a great chance to meet new people and an opportunity to learn something new. However, as soon as I started to study I found it it wasn't just a job, it's more than that.
To me massage therapy is all about feeling energy created between the therapist and the client. I want to make people feel good and massage therapy allows me to do this. It's become such a passion of mine.
I really believe massage is an art and the human body is a diamond that a massage therapist can help make shine.
What do you enjoy most about your job?
Mostly, the good energy! I learn from each experience and client, which helps me to be the best version of me which fills me with so much gratitude.
This job allows me to use both the creative and practical parts of my brain, which makes me feel very satisfied.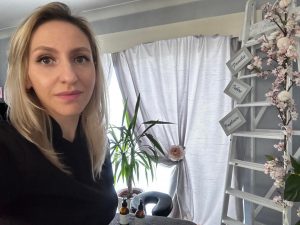 What's been your standout moment of your career to date?
One occasion makes me feel very special and is definitely a stand out. I received a booking from a very well known actress who happened to be my idol when I was a younger! She booked under another name on the Urban app so I wasn't expecting her to be the client. When she opened the door for her booking, I was shocked.
As I set up everything for her massage she was so kind and acted so normal which inspired me to treat her like she was one of my usual friendly clients and not a huge celebrity!
She ended up extending her session with me to enjoy the full benefit of the massage and at the end of the treatment she told me how impressed she was and how she appreciated how 'normally' I treated her. She said she felt safe and relaxed so the overall experience was a real success!
What's one piece of advice you'd give to someone wanting to follow in your footsteps?
I think everyone who wants to start a career should be passionate about what they do. Everyone should try and be the best therapist they can, don't just settle for being a normal therapist. The key is to make small but strong steps, be as curious as you can, and specialise and update your skill set to ensure you stay up to date with trends.
If you didn't become a massage therapist what would you have wanted to do instead?
Like a scale with two plates, I can't decide between two big fields: either a pilates trainer or psychologist. I love pilates and it has brought so many benefits to my life, but I would also consider being a psychologist. I've always been attracted to this field and how the brain and emotions work.
Describe a typical working day for you? (From waking up to going to bed)
I always start my day with a great breakfast, followed by the school run. After that I am available to work for four full hours. I then have the school run again and after that I organise everything for the evening and the next morning. After dinner with my family, I work for another four hours. If I don't have bookings I spend some time doing extra learning about my job and different massage techniques. At the end of the day I enjoy a good hot bath, followed by a good glass of wine and a movie.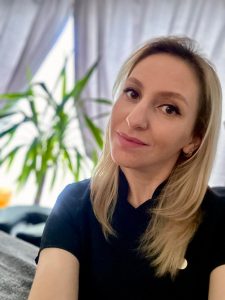 Where are you from Georgiana?
I'm from Romania.
And what do you enjoy doing in your free time?
My free time depends on daily priorities, but every morning starts with a good breakfast and my favourite coffee in silence. I am very lucky to love healthy food so almost every day I spend time making smoothies with ingredients like celery, spinach and ginger – I like to say, this is how I will live forever haha! I also like to read, go shopping and going for walks in nature with my family.
Do you have any interesting hobbies?
Gardening for sure. I am in love with flowers and trees, and I love to take care of them.
What does self-care mean to you?
Self care for me is a very well blended mix of self respect, inner peace, health and beauty. Taking care of me is an easy job because I learnt from childhood to love and respect my body and mind.
I am also a perfectionist, so I always want to be organised and to work at my best I need to ensure I am well rested. This is why I have my '8th rule'. What this means is, I give myself eight hours sleep, eight hours of work and eight hours of time doing things for me.
Sometimes being a wife, a mummy and having this exciting job isn't easy, but I learnt that knowing myself and my priorities makes me happy. Working in a job that I love, living a life I always wished for and spending time with kind people who love and respect me for me is all part of my self-care.
Finally, do you ever book treatments for yourself?
Yes, I love this part!
To book Georgiana for your next treatment head to our website.