We caught up with Jack, Urban's Co-founder and CEO to chat about Urban for teams.
Hey, Jack! Firstly, can you give everyone reading a bit of background on Urban?
I founded Urban back in 2014 with friend and Co-founder Giles Williams. We had one simple mission – to bring a human touch to city life. Literally with massage, but in the way we do business too. With Urban, self-employed therapists take home at least 70% of the treatment fee and are empowered to work on their terms.
Urban has made it easier to access wellness services whenever and wherever you need them. Through our app you can book a therapist to your home in 60 minutes, and if you're a company looking for services for your team, we make it as easy as possible to book and manage, with the corporate arm of our business Urban for teams. 
Urban for teams sounds really interesting, does the Urban team get to enjoy in-office treatments?
They do! A therapist comes into our HQ 2 or 3 times a month depending on how many people are planning to work from the office, and we'll occasionally have extra sessions if there are any special events or happening, like Summer or Christmas parties, or important awareness days or months such as World Mental Health Day or International Happiness at work week. 
As well as in-office treatments, we offer digital sessions like Mental Wellbeing workshops and yoga. Being a hybrid / remote team, we wanted to make sure that people who can't access the office can still enjoy our services. Members of the team who live in the areas we operate in also get cost base treatments at-home treatments.
How do you think having access to these services affects the team?
I've had lots of feedback from the team that they feel more focused and productive after a chair massage. Someone once said that having access to 15 or 20 minutes of wellness during a working day is a bit like having confirmation that we're not robots and it's okay to take some time to rest and reset when you need it, that really struck a chord with me.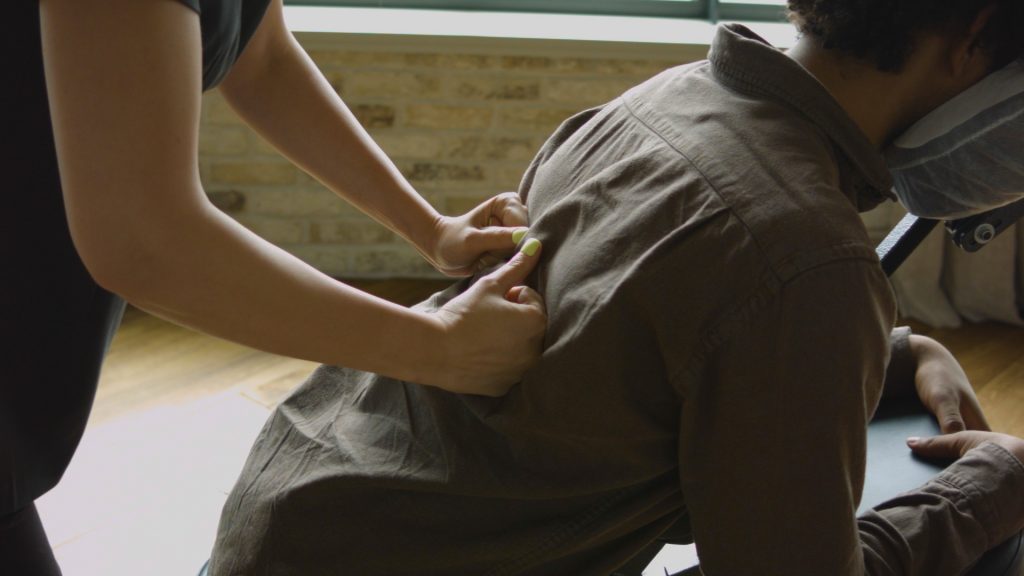 Here's what the Urban team say about their in-office chair massage sessions:
"It's perfect way to press 'reset' and clear my head in the middle of a workday" 
"A moment of calm in a busy day and great way to slot in the needed massage without any faff"
"How does in-office massage make me feel? Super refreshed, ease off my shoulders (literally)"
To find out more about Urban for teams or to book in-office massage for your team head to our website.