We've partnered with CBD oil producers Gaia Guru  to craft the perfect massage for relaxation and muscle recovery. Discover a powerful, targeted massage that works CBD goodness into all the right nooks.  

---
CBD is everywhere. In shop windows. On the 'gram. In the group chat. But what actually is it? And how can it aid massage? As we announce the launch of our brand new massage treatment, delivered in partnership with British CBD brand Gaia Guru, we answer all the important questions.
What is CBD oil?
CBD is short for cannabidiol – one of over 100 plant compounds called cannabinoids that naturally occur in the cannabis sativa plant. Unlike THC, which is the cannabinoid that produces a high, CBD is largely non-psychoactive and therefore does not induce a high.
In our new CBD massage treatment, your therapist will massage Gaia Guru's CBD oils and balms into your skin using powerful motions. You choose which areas they focus on, where they'll also apply Gaia Guru's more concentrated CBD balm.
---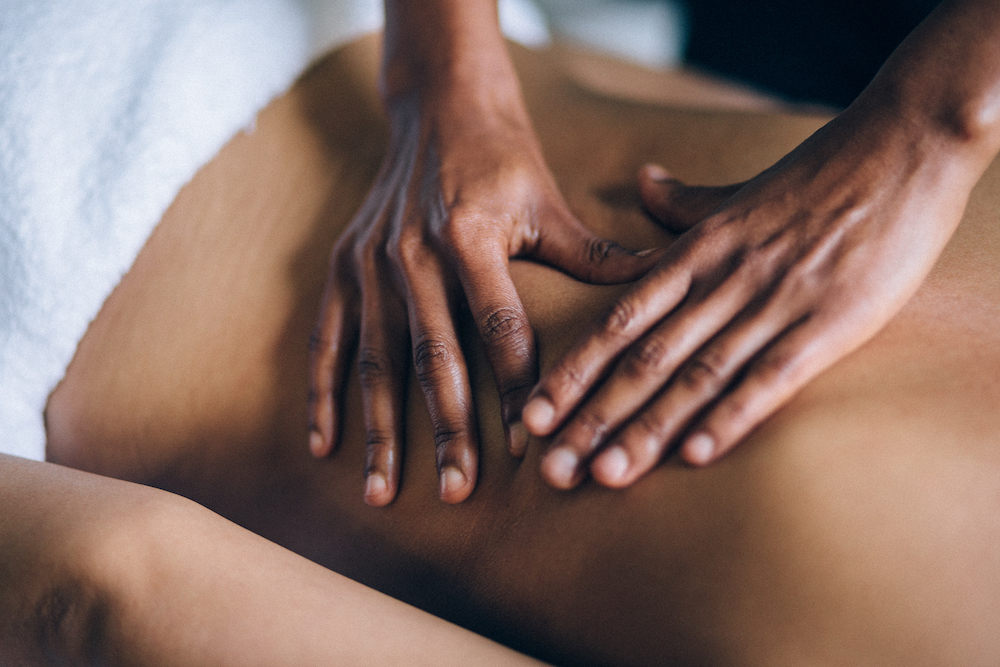 Book an at-home CBD massage in London >
---
Is CBD oil legal?
CBD is legal in the UK as long as it does not contain THC, which is a controlled substance under the Misuse of Drugs Act 1971. For our CBD massage, we exclusively partner with CBD brand Gaia Guru, who test their products carefully for THC content in line with UK and EU legislation. Their reports show THC levels do not exceed the required 0.2%.
What type of CBD oil is used in the massage?
Your treatment may include the following Gaia Guru products:
Original massage oil: a blend of 1000mg full-spectrum CBD oil with all-natural carrier and essential oils.
Warming massage oil: a blend of 1000mg full-spectrum CBD with all-natural warming essential oils and plant extracts.
Gaia Guru CBD Muscle balm: a blend of full-spectrum CBD with all-natural essential oils and plant extracts.
Will I get high from the CBD oil?
In our CBD massage treatment, the CBD oil is applied topically, not ingested, which means it does not produce any kind of high.
---
Read more: Do you need the pressure of a deep tissue massage? >
---
What strength of CBD oil do you use?
Gaia Guru closely monitor the CBD content of their products for transparency. They're proud to be able to claim that there is 1% CBD per 100ml bottle of massage oil, which translates to 1000mg total CBD. In their balms, CBD content is 1.6% for every 60ml, which translates to 1000mg total CBD.
What's the story behind Gaia Guru?
Gaia Guru's founders have five years of experience in the industry, working with other CBD companies. They're on a mission to raise the standards of quality control within the CBD industry, by providing education on its use and benefits.
What kind of massage style is the CBD massage?
The massage will be tailored to your needs. Your therapist will ask if you'd prefer a targeted massage concentrating on areas of tension, or a relaxation-focused full-body massage. Depending on your needs, your therapist will use deep tissue and/or sports massage techniques to help alleviate pain and soothe your muscles.
---
Who are we? We're Urban, on a mission to empower people through wellness. Our app is the easy way to book massage, physio, osteopathy and beauty services to your home. Simply choose your pre-vetted practitioner, pick a time and place, and relax.
Life's better with the app
Find out what therapists are working in your area and book one of 11 treatments.
Download our app