Credit: @yogasphereUK
As our obsession with weird and wonderful forms of yoga continues to grow, as does the number of London classes offering unique stretch experiences. Whether you like your yoga hot, aerial, silent or styled like a 70s disco, you'll be able to find it somewhere in the city. Now the weather is heating up we're on the lookout for rooftop classes where our downward dog also leaves us with delightful views of some of the city's sights.
Yoga is traditionally practised at sunrise and sunset in its birthplace of India, so it makes sense to take advantage of a high-rise class where you can experience a true sun salutation. Whether you choose to practice yoga the traditional Indian way or in a more modern style, there's a mat somewhere in the sky that's ready to receive your savasana right now. Discover our four favourite rooftop yoga locations in London.
Yogarise at The Bussey Building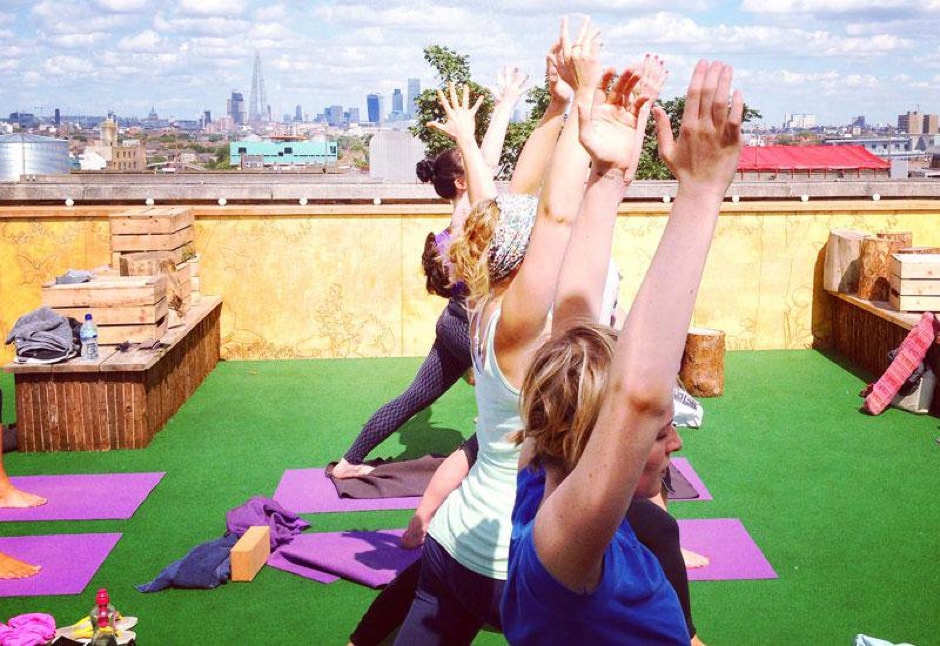 Credit: @yogariserooftop
If you live in the South London area you'll probably already know about the amazing classes run by local yogis and founders of Yogarise Emma and David. Usually their classes are held on the second floor of the iconic Bussey Building, but when the weather is good the yoga teachers take to the roof to hold their hour long dynamic vinyasa practice. Try one their classes the day after you've hadordered a Swedish massage, you'll be surprised how much further you can stretch.
Yogarise at the Bussey Building, 133 Rye Lane, Peckham, London SE15 4ST, 020 7732 5275
Yogasphere at the Shard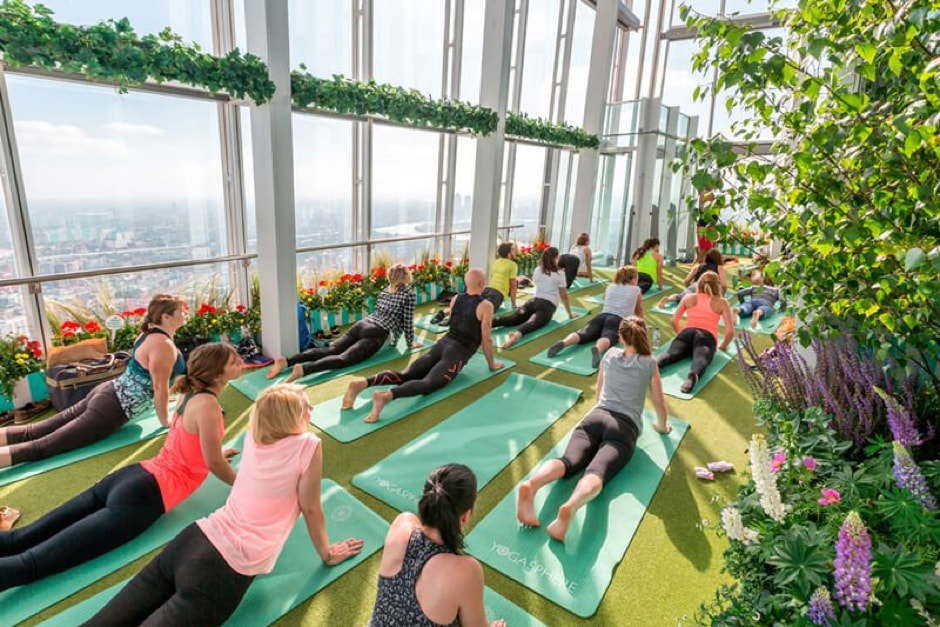 Credit: @jellymalin
Europe's highest yoga class, this 8.30am Saturday morning session is not for those with even an inkling of vertigo. From a staggering 310m in the air you can experience a flow yoga class with stunning views of the city. When it's warm, the class will take place outdoors on level 72's open air Sky Deck, but even on typically British weather days the class will continue from the only slightly less staggering 69th floor.
Yogasphere at The Shard, 32 London Bridge Street, London SE1 9SG, +44 (0)844 499 7111
Sunrise Yoga at the Sky Garden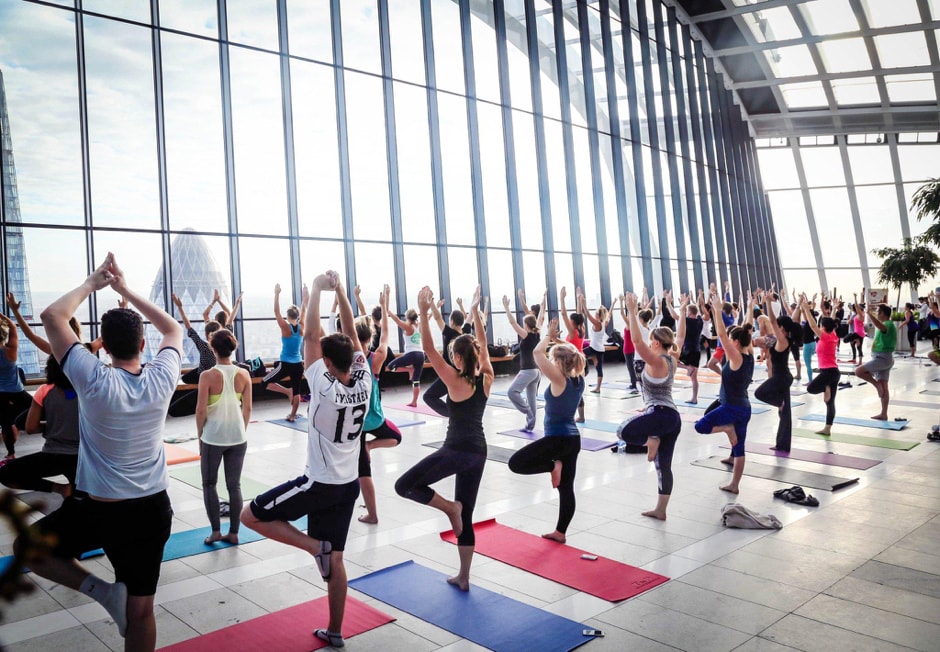 Credit: @sg_skygarden
If you want your vinyasa to come with an outstanding view, the Sky Garden's sunrise yoga sessions cannot be beaten. The early morning classes take place on the 36th floor and come followed by a healthy buffet breakfast. After the session is over you're free to explore the garden's greenery for as long as you like. Before you jump on the tube order an Urban Massage so you can unwind as soon as you get in. There's nothing better than a London massage from the comfort of your own home after a deep stretch.
Sunrise Yoga at the Sky Garden, 1 Sky Garden Walk, London, EC3M 8AF, +44 (0)207 337 2344
Good Life Yoga rooftop sessions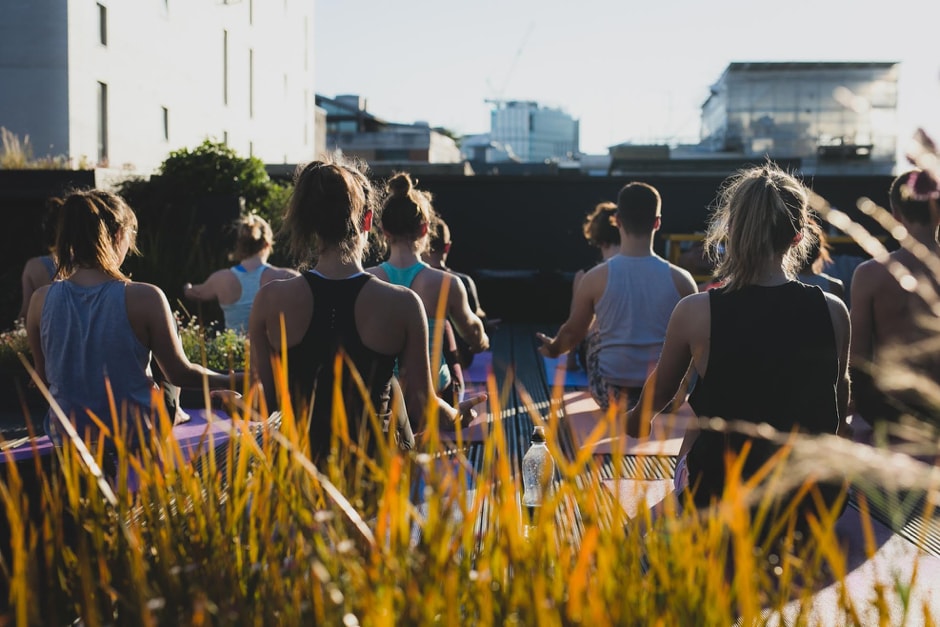 Credit: @goodlifeyoga
Good Life Yoga hosts rooftop classes across the capital, from Shoreditch to Borough. They believe high-rise yoga leaves you with a tangible 'high' sensation, which they attribute to the increase in the body's γ-aminobutyric acid that comes from their classpractice. An ideal alfresco energy boost, the classes are also a great place to meet likeminded people. And if anyone asks, 'Do you know a good massage near me?' just tell them we sent you!
Good Life Yoga rooftop sessions, various locations available
Life's better with the app
Find out what therapists are working in your area and book one of 11 treatments.
Download our app